Members are eligible to attend events in any part of Ireland, so don't limit your browsing to your own location. The categorisation by geographic region is for administration and organisational purposes only.
Non-members are very welcome at our events though there will be a charge for insurance purposes. Do come along and join us and, perhaps, become a member. There will be events which will be restricted to members only – perhaps because of the size of the garden and the need to restrict numbers or because this is the wish of the garden owner – and, on these occasions, unfortunately, we cannot accommodate non-members.
We occasionally list events of other groups in the 'Other Events' category, generally for groups we regularly work with. These are not part of the official IGPS programme but may be of interest to members.
Aug
22
Sat
Garden Visit to War Memorial and Royal Hospital Gardens.

@ See Eventbrite listings
Aug 22 @ 2:00 pm – 5:00 pm
The Leinster Committee has organised a visit to the above gardens on Saturday 22 August at 2 pm. There will be two groups: one visiting the War Memorial Gardens first followed by the gardens at The Royal Hospital, Kilmainham. The second group will do the gardens in reverse. Members can find further information and choose which garden they wish to visit first(see below) Spaces are limited to 12 per group hence this is a members-only event.
On each guided tour a presentation will be made of Ecallonica 'Alice' named for Alice, the wife of C. F. Ball, assistant keeper at Glasnevin who died during the First World War. In June 2016, the IGPS made a presentation of Escallonia 'C.F. Ball' to the staff at the National War Memorial Gardens so the Society is delighted to be able to make a presentation of E.'Alice' during this visit.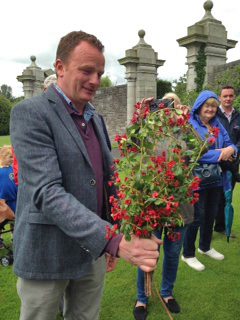 To book War Memorial Gardens followed by the gardens at The Royal Hospital:
https://www.eventbrite.ie/e/tour-of-war-memorial-gardens-followed-by-the-gardens-at-the-royal-hospital-registration-114510598282
To book the gardens at The Royal Hospital Kilmainham followed by a tour of the War Memorial Gardens:
https://www.eventbrite.ie/e/gardens-at-the-royal-hospital-and-tour-of-the-war-memorial-gardens-registration-114516455802