Members are eligible to attend events in any part of Ireland, so don't limit your browsing to your own location. The categorisation by geographic region is for administration and organisational purposes only.
Non-members are very welcome at our events though there will be a charge for insurance purposes. Do come along and join us and, perhaps, become a member. There will be events which will be restricted to members only – perhaps because of the size of the garden and the need to restrict numbers or because this is the wish of the garden owner – and, on these occasions, unfortunately, we cannot accommodate non-members.
We occasionally list events of other groups in the 'Other Events' category, generally for groups we regularly work with. These are not part of the official IGPS programme but may be of interest to members.
Dec
3
Tue
Airfield – A Work in Progress with Colm O'Driscoll

@ Northridge House
Dec 3 @ 8:00 pm – 9:30 pm
Feb
4
Tue
The Greedy Gardener – with Rosemary Maye

@ Northridge House,
Feb 4 @ 8:00 pm – 9:30 pm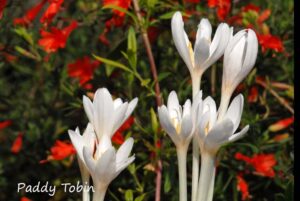 Rosemary Maye may be better known to you as The Insomniac Gardener. In this talk – The Greedy Gardener or How to have Colour in every Season –  she will show how she manages to have interest and colour in the garden in every season.
Rosemary says,
"I love the title of a poem, by E.e Cummings
This is the Garden: Colours come and go
Seventeen years ago we were enticed to the countryside.
Mullaghdillon House, a romantic old house, whose beauty included the centuries old trees and borrowed views that include the historic ruins of Slane on the hill opposite …. but no colour.
I love colour, and immediately set about planting.
Learning as I went along, I now have something to delight me in all seasons.
Whether it's interest from bulbs or colour from an autumn leaf, colour is possible in all seasons.
Join me on a year's journey in my garden."
Tea/coffee afterwards. Raffle.
All welcome
Apr
7
Tue
First Days of Spring – Flowers, Foliage and Perfume with Liam Grainger

@ Northridge House,
Apr 7 @ 8:00 pm – 9:30 pm